Spring Awakening |
January 26 - February 10
Book and Lyrics bySteven Sater Music by Duncan Sheik | Based on the play by Frank Wedekind
"An angsty rock musical adaptation of the seminal play about the trials and tribulations of growing up."
The winner of eight Tony Awards, including Best Musical, told by Duncan Sheik and Steven Sater through what Entertainment Weekly called, "the most gorgeous Broadway score this decade," Spring Awakening explores the journey from adolescence to adulthood with a poignancy and passion that is illuminating and unforgettable. The landmark musical is an electrifying fusion of morality, sexuality and rock and roll that is exhilarating audiences across the nation like no other musical in years.
Disney's The Little Mermaid |
May 11 - May 26
Music by Alan Menken | Lyrics by Howard Ashman & Glenn Slater | Book by Doug Wright
"In a magical kingdom beneath the sea, the beautiful young mermaid, Ariel, longs to leave her ocean home to live in the world above."
Based on one of Hans Christian Andersen's most beloved stories and the classic animated film, Disney's The Little Mermaid is a hauntingly beautiful love story for the ages. With music by eight-time Academy Award winner, Alan Menken, lyrics by Howard Ashman and Glenn Slater and a compelling book by Doug Wright, this fishy fable will capture your heart with its irresistible songs, including "Under the Sea," "Kiss the Girl" and "Part of Your World."
Bring It On the Musical |
July 19 - July 28
Music by Lin-Manuel Miranda & Tom Kitt | Book by Jeff Whitty | Lyrics by Lin-Manuel Miranda & Amanda Green
"The cutthroat world of competitive cheerleading meets the fierce rivalries of high school politics and romance."
Bitingly relevant, sprinkled with sass and inspired by the hit film, Bring It On The Musical takes audiences on a high-flying journey that is filled with the complexities of friendship, jealousy, betrayal and forgiveness. Uniting some of the freshest and funniest creative minds on Broadway, Bring It Onfeatures an original story by Tony Award winner, Jeff Whitty (Avenue Q), music and lyrics by Tony Award-winning composer, Lin-Manuel Miranda (In the Heights, Hamilton), music by Pulitzer- and Tony Award-winning composer, Tom Kitt (Next to Normal), lyrics by Broadway lyricist, Amanda Green (High Fidelity), and was nominated for the Tony Award for Best Musical.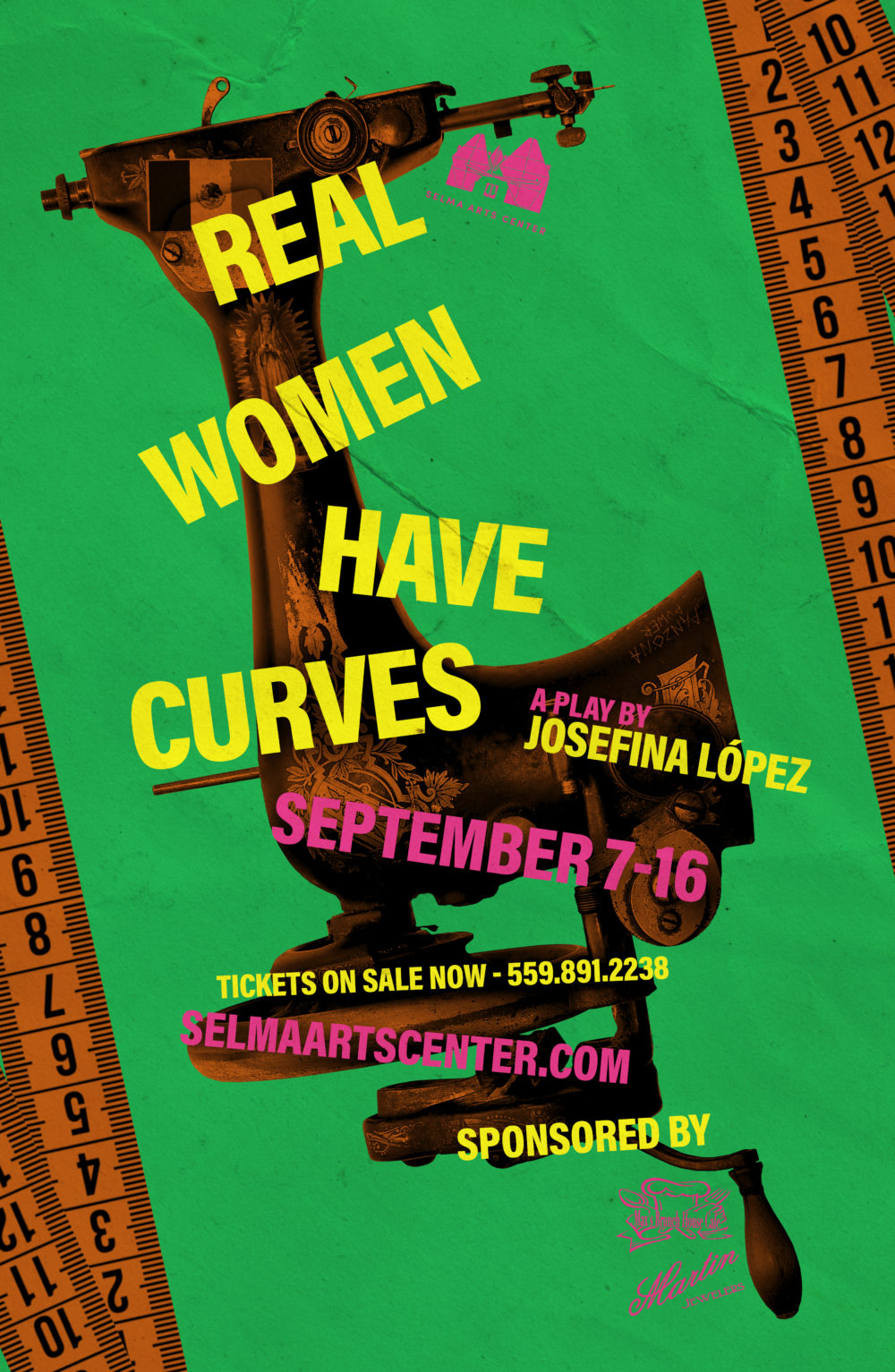 Real Women Have Curves |
September 7 - September 16
A Play by Josefina López
"This play, a microcosm of the Latina immigrant experience, celebrates real women's bodies, the power of women, and the incredible bond that happens when women work together."
Set in a tiny sewing factory in East L.A., this is the outrageously funny story of five full-figured Mexican-American women who are racing to meet nearly impossible production deadlines in order to keep their tiny factory from going under. And while they work, hiding from the INS (Immigration and Naturalization Service), they talk... about their husbands and lovers, their children, their dreams for the future. The story is told from the point of view of Ana, the youngest among them. Just graduated from high school, Ana dreams of getting out of the barrio and going off to college and becoming a famous writer. Although she needs the money, Ana doesn't like working at the factory and has little respect for the coworkers, who make fun of her ambitions and what they consider her idealistic feminist philosophies. However, Ana keeps coming to her job and chronicling her experiences in a journal. As the summer unfolds, she slowly gains an understanding and appreciation of the work and the women, eventually writing an essay that wins her a journalism fellowship which will take her to New York City.
Sweeney Todd: The Demon Barber of Fleet Street |
October 5 - October 20
Music & Lyrics by Stephen Sondheim | Book by Hugh Wheeler
"Attend the dark, witty and Tony Award-winning tale of love, murder and revenge set against the backdrop of 19th century London."
Sweeney Todd has become a bloody, worldwide success since being awarded eight Tony's, (including Best Musical), for its Broadway premiere. Stephen Sondheim's and Hugh Wheeler's (A Little Night Music, Pacific Overtures) tasty, thrilling, theatrical treat has simultaneously shocked, awed and delighted audiences across the world.
A Midsummer Night's Dream |
November 8 - November 17
A Play by William Shakespeare
"Hold on to Your Heart. Cupid is Armed and Dangerous."
Lysander loves Hermia, and Hermia loves Lysander. Helena loves Demetrius; Demetrius used to love Helena but now loves Hermia. Egeus, Hermia's father, prefers Demetrius as a suitor, and enlists the aid of Theseus, the Duke of Athens, to enforce his wishes upon his daughter. According to Athenian law, Hermia is given four days to choose between Demetrius, life in a nunnery, or a death sentence. Hermia, ever defiant, chooses to escape with Lysander into the surrounding forest.
2018 Season Membership
Become a Selma Arts Center 2018 Season Member
"See all the great plays and musicals this year for a discounted price."
2018 Season Membership $100 / Senior Discount $90
Members will receive one ticket for 6 shows: A value of $140 for only $100. ($100 value for $90 for Seniors) Offer is valid on all Selma Arts Center in house productions: The Hunchback of Notre Dame, Spring Awakening, The Little Mermaid, Bring It On, Real Women Have Curves Sweeney Todd, A Mid-Summer Nights Dream.  Offer excludes outside events unrelated to the Selma Arts Council. Discount is valid for 12 MONTHS upon purchase. Discount will be limited to 6 tickets per member and tickets are limited to one ticket per production. Tickets are non-refundable and can not be redeemed for cash
Visit Memberships for purchase.