CABARET
Welcome to the infamous Kit Kat Klub, where the Emcee, Sally Bowles, and a raucous ensemble take the stage nightly to tantalize the crowd--and to leave their troubles outside. But as life in pre-WWII Germany grows more and more uncertain, will the decadent allure of Berlin nightlife be enough to get them through their dangerous times?
Book by Joe Masteroff
Based on the play by John Van Durten and stories by Christopher Isherwood
Music by John Kander
Lyrics by Fred Ebb
PERFORMANCES
Fri, November 8 - 7:30 PM
Sat, November 9 - 2 PM BOGO*
Sat, November 9 - 7:30 PM
Sun, November 10 - 2 PM
Thurs, November 14 - 7:30 PM† (Student/Senior Discount)
Fri, November 15 - 7:30 PM Post-Show Cabaret!
Sat, November 16 - 2 PM BOGO*
Sat, November 16 - 7:30 PM
Sun, November 17 - 2 PM
Thurs, November 21 - 7:30 PM† (Student/Senior Discount) Post-Show Talkback with Cast and Crew
Fri, November 22 - 7:30 PM
Sat, November 23 - 2 PM†
Sat, November 23 - 7:30 PM†
*must purchase a minimum of two tickets
† Vizual Voices ASL interpretation offered during this performance for Deaf and Hard of Hearing guests
TICKETS
$21 Adult
$19 Student/Senior/Military
$17 Children under 13
Life is a Post-Show Cabaret!
Friday, November 15 at 10 PM
Enjoy performances by the cast and friends.
Entry is by donation.
CABARET is Rated R
Directed and Choreographed by Michael C. Flores
Produced by Nicolette C. Andersen
Stage Manager - Sami Moore Valles
Vocal Director - Mindy Ramos
Music Director - Matthew Smoke
Sound Designer - Mindy Ramos
Lighting Designer - Dan Aldape
Costume Designer - Damen Pardo
Wig Designer - Garret Ruiz
Makeup Designer - Alyssa Burgos and Mallory Parker
Stunt Coaches - Stephan Alvin and Adriana Krause
Scenic Designers - Erik Andersen and Nicolette C. Andersen
Properties Designer - Kim Houston
Sponsored by TeeRico by Lin-Manuel Miranda, Adventist Health, and the Selma Arts Council.
Tickets are available by calling 559.891.2238, by visiting selmaartscenter.com or at the Selma Arts Center box office located at 1935 High Street, Selma, CA 93662. Box office hours are Tuesday–Friday, 1PM-5PM. Tickets will also be available at the door for the same price until sold out.
Season Membership holders may apply their membership benefits for this event.
Doors open half hour before show time. For information, call (559) 891-2238, email nicolettea@cityofselma.com, or visit the Selma Arts Center website at selmaartscenter.com.
The Second Ever SACAs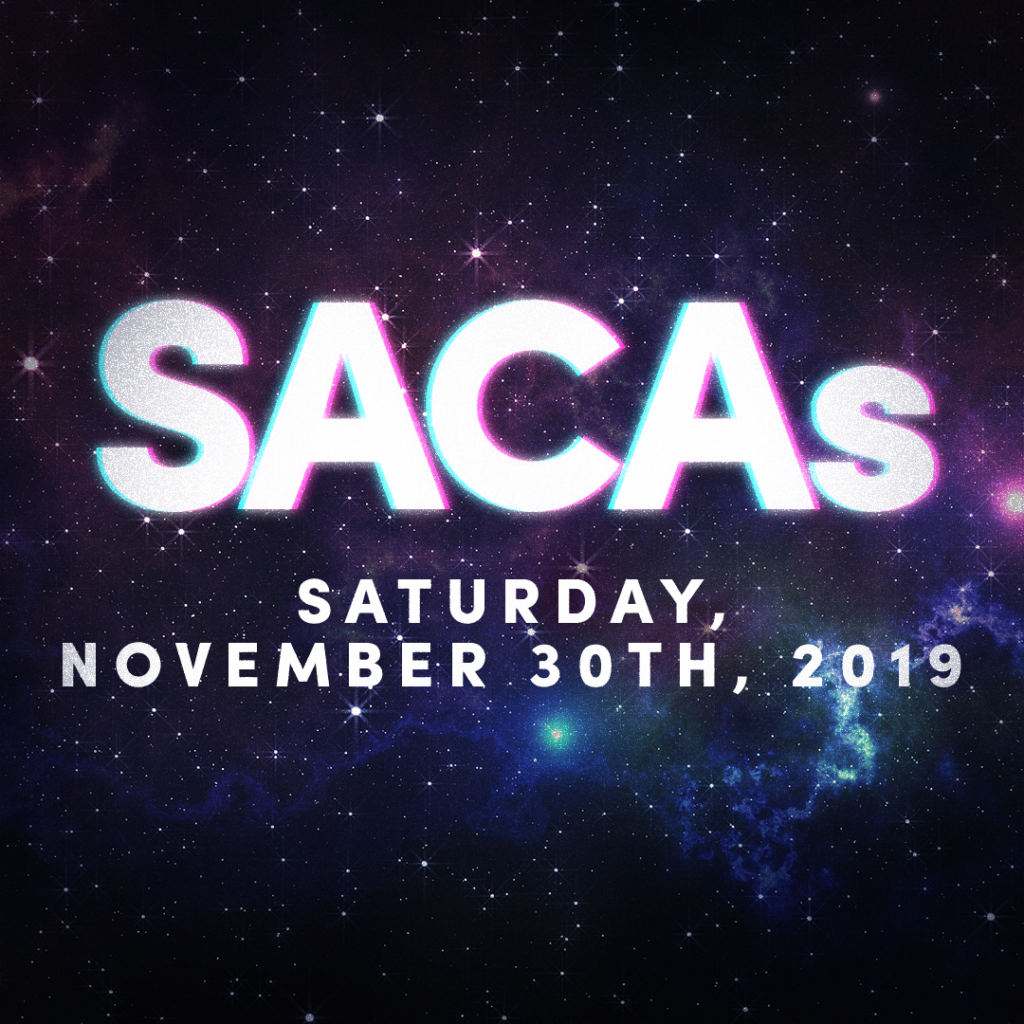 You're invited to the second-ever Selma Arts Center Awards!
The Selma Arts Center Awards (SACAs) is a bi-annual gala and fundraiser for SAC family and supporters to gather and celebrate the last two seasons of programming while raising funds to help ensure SAC can continue to produce superior theatre and arts events for our community.
Full Table (seats eight people) - $550
General Individual Ticket - $75
Season Ticket Holder Individual Ticket - $60
6:30pm - Red Carpet Cocktail Hour
Tickets include a catered dinner and seat at the hottest event of the year, the second-ever SACAs! The awards show will include the presentation of awards in over twenty categories and performances from some of your favorite past shows. Joins us for this red carpet event which includes a cocktail hour, silent auction, raffle, and a full evening of entertainment.
Nominees and honorees must visit the box office located on 1935 High Street in Selma, or call 559.891.2238 to purchase their tickets at a special discounted rate. The box office is open from 1pm-5pm Tuesday thru Friday.
Stay tuned on social media for future announcements regarding performances, raffle and auction items, and more!
#SACAs2019

Tickets to this event are not included with Season Membership and must be purchased separately.